Lakeshore Chrysler Dodge Jeep customers that are searching for new or used Jeep Wrangler, our Slidell Louisiana based dealership will serve all your new and used auto needs. We make finding your New or Used Jeep Wrangler easy! Lakeshore Chrysler Dodge Jeep helps residents remain at one location and having all their auto needs met. We are located in Slidell on the Northshore of Louisiana. Lakeshore Chrysler Dodge Jeep is located nearby New Orleans, Metairie, Houma, Mandeville, Covington, Abita Springs, Pearl River, Chalmette, Jefferson, Diamondhead, Picayune and Bay St. Louis Mississippi!
The 2011 Jeep Wrangler
The 2010 Jeep Wrangle
The 2009 Jeep Wrangler
The 2008 Jeep Wrangler
The 2007 Jeep Wrangler
The 2006 Jeep Wrangler
The 2005 Jeep Wrangler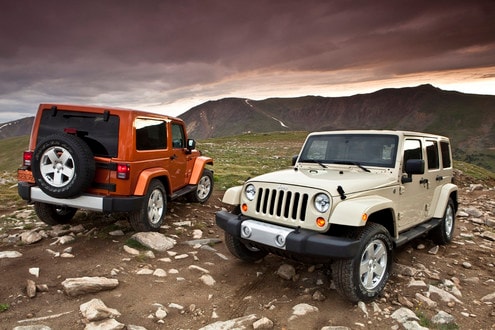 Once
Lakeshore Chrysler Dodge Jeep
customers encounter our more recent used Wrangler years from 2006-2011 it becomes clearly apparent that refinements occurred as years went on for the off-road transporter. If you are searching solid, reliable, secure and entertaining drives then take your test-drive in
Lakeshore Chrysler Dodge Jeep
famous Jeep Wrangler.
Jeep Wrangler Designs and Powertrain
Everything just kept on track as years of Jeep Wrangler went on, such as, that old ragtop is now available in three-piece removable hardtop! Even the alloy of tires is top of the line, as Jeep uses nothing but highly valued Good Year Tires. Under the Hood is for 2007 newly upgraded 3.8-liter V6, which replaced Jeep Wranglers DOHC lesser powered engine from past. From 2007-2010 Jeep Wranglers brought with it the Jeep Wrangler Unlimited, which has more power and larger body structure than its mentor, Jeep Wrangler 4x4 does. Both wranglers have several variables and options, including a huge abundance of high tech features from exterior differentials, under the hood choices and modernized interior features.
Lakeshore Chrysler Dodge Jeep
has various Used Wrangler trims include eight total, there is X 2-door, Unlimited X 4dr 4x2, X RHD 2dr 4x4, Unlimited X 4Dr 4x4, Sahara 2Dr 4x4, Unlimited Sahara 4Dr 4x4, and the robust Rubicon 2Dr 4x4. So, slightly overwhelmed with thoughts of "what do I choose here?" Well that answer is simple it is all about various equipped convenience features, larger wheels, and different features both in and out that consumers search for in Jeep Wrangler. Nevertheless, any Jeep wrangler chosen will be an adventurous one, as fun filled days with that top taken off will become memorable good times. Stepping into the new ages, naturally Jeep designers cater to all generations and making things
Jeep Wrangler Interior/Exterior/Safety Features

Everything plus more really kicked off in 2007 for Wrangler as designs just kept climbing towards more features, better conveniences, stronger safety features, better state of the art media, and optional features as Garmin Navigation and Movie DVD Players. As years went on such as 2008-2011, everything went high tech and solid reinforced safety has been installed in and outside this off road legend! Now there is Hill-assist, electronic stability control, traction control, tires with grips that stick through any Mother Nature's back road areas, inside is rear backup camera screens, actual outlets of 110watss in the center front console larger windows providing panoramic views for all passengers, and much more .
Jeep for Used Jeep Wrangler
Why contact
Lakeshore Chrysler Dodge Jeep
for your next Jeep Wrangler Used purchase? Well to simplify that answer would be choosing us for used Wrangler model/years create a One Stop Jeep Shop catering to all your Wrangler wishes.