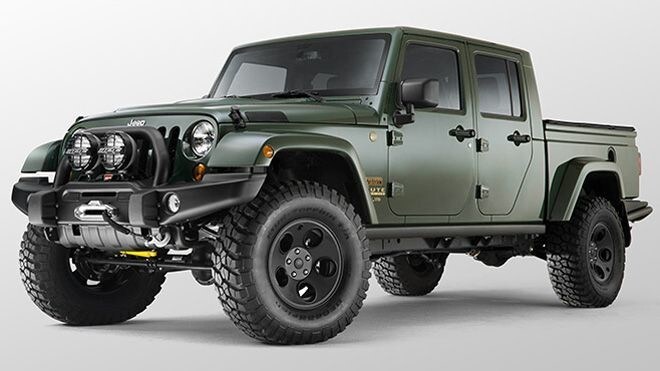 Many of us have been frustrated with the uncertain release date by Jeep, but we are still excited by the promised features of the Jeep pickup truck. The style of the new Jeep truck will be in the typical Jeep fashion but with extra space in the rear. The delays of the company are due to their need for further improvements in safety features. We have heard dates like 2017 or 2018 but now 2019 seems more realistic. The official name for the new pickup has still yet to have been decided.
Meeting a New Market Demand
Jeep is not known for making pickup trucks, but rather their compact square vehicles. The American consumer demands large trucks or SUV's to haul around families, groceries, or just to make a statement to the other cars on the road. Jeep had recognized this demand and set out to produce their first pickup truck. Australia, with similar tastes, is expected to receive the new pickup in a timely manner in 2019.
American Made by Fiat Chrysler
Fiat Chrysler is responsible for the production of this all-American brand. The Toledo, Ohio plant currently requires $700 million in upgrades to handle the demand for the new Jeep wrangler pickup. The Toledo Complex has a history of pumping out vehicles since 1910. Jeep has been contracting with the plant since the 1940's.
Hybrid Construction of Aluminum and Steel
Sergio Marchionne had announced that this will be their second vehicle to be made of aluminum and steel. The costs of their prior aluminum Jeep experiment was too high, so this time they will be adding economical steel to the alloy. It is expected that the tailgate, hood, bumper, and doors will be made out of pure aluminum. There are some parts that will be made from pure steel as well. Overall, this vehicle will be very lightweight. The new material change may also be contributing to further delays.
What About Those Spy Shots
We know that working prototypes of the new pickup are out there thanks to several leaked photos of the truck in testing. The shots were made at an aerial view, capturing a Jeep-like vehicle with a big cargo space in the back. These pictures were definitely of the new sought out truck. Although it was covered, the photos revealed the typical box look that gave it away. It appears to be a dual cab truck that appears like a larger four-door Wrangler Unlimited. This will definitely be the longest sized vehicle in the Wrangler series.