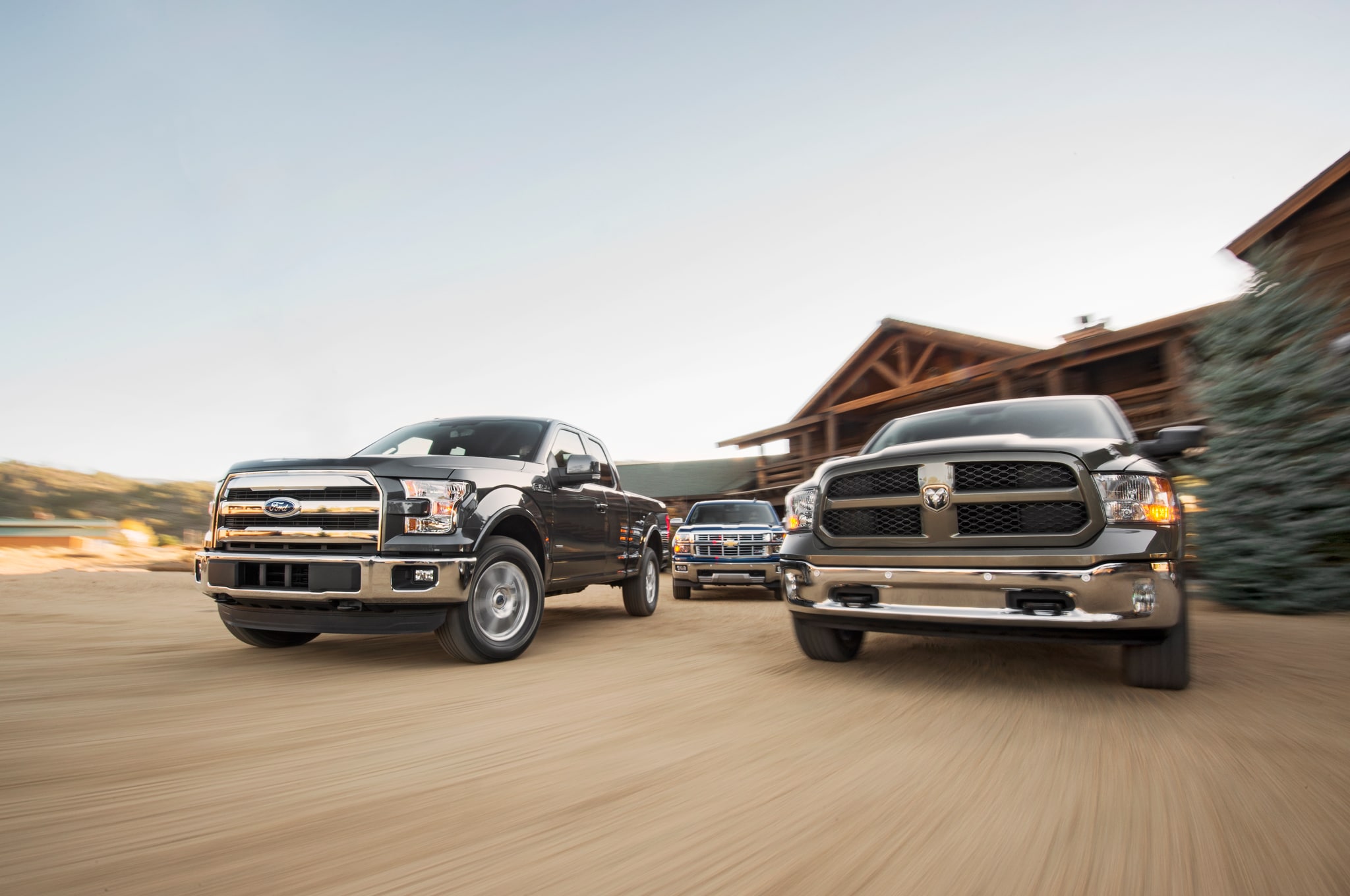 The entry level make for light duty trucks puts the Ford F-150 in direct competition against the Ram 1500. What are the basic features of the 2017 F-150 Ford truck? What are the basic features of the Dodge 1500 Ram? Here is a comparison to help you make the most well-informed decision.
Ford Tough
Henry Ford started his company back on June 16, 1903 with the Ford F-150 line of trucks being started in 1977. This Ford truck has a standard 3.5L Ecoboost engine with 10-speed transmission, 470 lb-ft of torque and 12,200-lb maximum tow rating. This will provide you with 19 city mpg and 26 highway mpg. The F-150 also offers "optimized wide-span gear spacing, coupled with drag-reduction actions." Ford also offers driver assistance technology, including the Blind Spot Information System (BLIS) with cross-traffic alert and trailer coverage. You can also add "Pro Trailer Backup Assist." Your only option for the 2017 Ford truck is a gasoline engine.
Ram Tough
The Dodge Brothers started in 1900 - 3 years before Henry Ford. The Ram 1500 offers either a 5.7L HEMI gasoline or a 3.0L Ecodiesel engine. This is a nice option, if you want more power in your light duty truck. You can have a more fuel efficient model with 29 highway mpg in your Dodge 1500 Ram. The maximum gas towing is 10,620 lbs. You can enjoy active level four corner air suspension on your Dodge 1500. The 5.7L Hemi engine has an 8-speed transmission. The Ram 1500 is built with an 8 x ultra-tough, high-strength, crossmember frame. The maximum diesel torque is 420 lb-ft. The Ram 2017 1500 might have the best exterior chrome styling.
Longest-Lasting Trucks: Ram
Both brands like to refer to their trucks as "tough" so that is not really much of a differentiating factor. The Dodge Ram 1500, or Ram 1500 as "Ram" is now its own brand, has a superior engine. So, if you want a good light duty truck, then check out a solid, long-lasting Dodge truck. If you are serious and want the most for your money - trust the longest-lasting truck brand: Dodge Ram. You get a better MPG and exterior style. Plus, the Dodge interior trim is pretty nice. You should check out the Laramie package. The average light duty truck owner likes to add 4-wheel drive, crew cab and some nice trim options. View our inventory, check out our other pages and find the right Dodge Ram 1500 or Dodge Ram 2500 for you.