Lakeshore Chrysler Dodge Jeep customers that are searching for new or used Chrysler 200, our Slidell Louisiana based dealership will serve all your new and used auto needs. We make finding your New or Used Chrysler 200 easy! Lakeshore Chrysler Dodge Jeep helps residents remain at one location and having all their auto needs met. We are located in Slidell on the Northshore of Louisiana. Lakeshore Chrysler Dodge Jeep is located nearby New Orleans, Metairie, Houma, Mandeville, Covington, Abita Springs, Pearl River, Chalmette, Jefferson, Diamondhead, Picayune and Bay St. Louis Mississippi!
2011 Chrysler 200
2010 Chrysler 200
2009 Chrysler 200
2008 Chrysler 200
2007 Chrysler 200
2006 Chrysler 200
Indulge in the comeback Chrysler 200 after 30 years of being in an auto time capsule and used Chrysler model/years from respected Long island #1 Lakeshore Chrysler Dodge Jeep for future Chrysler purchases, service, ordering parts or accessories for that 20011 you just financed! Head over to check out the indelible exterior colors and 200 Model/years all used and all in mint condition. WLakeshore Chrysler Dodge Jeep welcome anyone searching used to check us out online or if nearby, stop into Louisiana's Best Dealership!


New OR Used Chrysler 200 Design and Power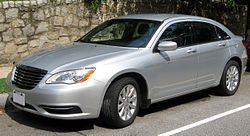 Chrysler 200 Interior
The Chrysler 200 is a mid-size sedan and convertible produced by Chrysler, being introduced for the 2011 model year. The Chrysler 200 is an update and new nameplate for the outgoing 2010 Chrysler Sebring. Although the Sebring platform has been retained, there have been numerous cosmetic and powertrain changes to the 200. While the 2.4 L four-cylinder engine with either a four-speed or six-speed automatic transmission is carried over, Chrysler's new 3.6 L V6 is offered, with a six-speed automatic transmission, generating 283 horsepower (211 kW) and 260 lb·ft (350 N·m) of torque. Other changes include stiffer body mounts, a softer ride rate, revised suspension geometry, a new rear sway bar, and upgraded tires. The 200 also introduces more premium features than the Sebring, such as LED lighting, thicker seat cushioning with higher quality materials, and new measures to decrease noise, vibration, and harshness.


Chrysler 200 Summary
The 200 name first appeared on a prototype hybrid vehicle shown at the 2009 North American International Auto Show in Detroit, called the 200C. The prototype was based on the Chrysler 300. While Chrysler's sales chief, Steven Landry, said it had been approved for production, CEO Sergio Marchionne later said it was not practical. The 200C concept was engineered to accept either a traditional gasoline engine, hybrid or electric powertrain.[In Europe, the car will be sold as the Lancia Flavia beginning in the first half of 2012.