New OR Used Dodge Durango

Lakeshore Chrysler Dodge Jeep customers that are searching for new or used Dodge Durango, our Slidell Louisiana based dealership will serve all your new and used auto needs. We make finding your New or Used Dodge Durango easy! Lakeshore Chrysler Dodge Jeep helps residents remain at one location and having all their auto needs met. We are located in Slidell on the Northshore of Louisiana. Lakeshore Chrysler Dodge Jeep is located nearby New Orleans, Metairie, Houma, Mandeville, Covington, Abita Springs, Pearl River, Chalmette, Jefferson, Diamondhead, Picayune and Bay St. Louis Mississippi!
2011 Dodge Durango SUV
2010 Dodge Durango SUV
2009 Dodge Durango SUV
2008 Dodge Durango SUV
2007 Dodge Durango SUV
2006 Dodge Durango SUV
2005 Dodge Durango SUV
2004 Dodge Durango SUV
The Durango Hybrid is Dodge's first attempt at a hybrid, although, the Hybrid keeps its special powertrain relatively low key. The 2009 Durango Hybrid can operate on gasoline and electric power, or on gas power alone. This Durango is a 4-door, 8-passenger sport-utility, available in one trim only, the Limited 4X4, and it is brand new for 2009. It runs pure electric in reverse and up to 25 mph in drive. Further, the hybrid system allows more use of the four-cylinder mode for the Hemi's Multiple Displacement System at highway speeds. The projected 25 percent fuel economy increase is great for any car, but it's even more significant in a vehicle that only averages 12 mpg. The Durango Hybrid achieves 20-mpg in the city and 22-mpg on the highway. The Durango gets better mileage than any full size gasoline powered SUV, and it drives with similar capabilities as its conventional Durango sibling.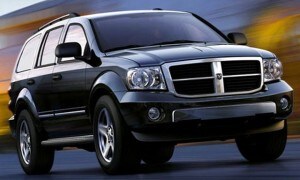 Driving the Durango Hybrid
The Durango Hybrid drives like a typical truck based SUV. Maximum towing capacity for the Durango Hybrid is 6,000 pounds. Total output, when combined with the advanced two-mode hybrid system, is 400 horsepower and 380 lb.-ft. of torque - the most powerful hybrid SUVs. Compared to many of today's crossover vehicles, the Durango is much rougher and less of a smooth ride. The tall "midsize" sport/utility feels and acts bigger than a Tahoe or Yukon. Still, the Durango easily maintains control and responds well. The Hybrid has a Traction Power Inversion Module that determines when the vehicle should operate in the first or second mode and also chooses gears. The first mode on the Durango is mostly for around-town driving and can use battery power alone up to 25 mph.
It is not easy to spot the differences between the non-hybrid Durango and the 2011 Dodge Durango Hemi Hybrid. Slight variations to improve wind and rolling resistance are present according to Dodge. This only makes since as the whole point of the two-mode hybrid is that you don't have to give up performance and looks for better economy. Minimum ground clearance is down 0.9 inches, despite a load floor that's closer to that of the regular Durango. Eighteen-inch chrome wheels are standard. Hybrid badges appear near the front fenders and above the rear bumper, but they're comparatively humble. Compared to competition, the Durango is smaller than the Tahoe and Expedition.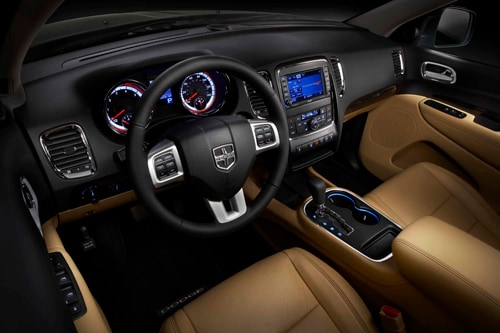 The 2009 Durango offers plenty of storage area; with the second row down there's 102 cubic feet of cargo capacity. The liftgate opens easily and is power-operated. The cargo floor is relatively low, thanks to the rear suspension design, making loading and unloading easier. The second-row seat easily flips forward with the touch of one hand, and the seatback flops flat just as easily. Standard features on the 2009 Durango Hybrid include leather upholstery and heated power front seats. Hybrid-specific implements include a screen on the navigation system that shows real-time power flow between the drivetrain components - the battery brakes and engine.
The two-mode hybrid that powers the Durango Hybrid is the same system utilized in the GMC Yukon and Chevrolet Tahoe hybrids and jointly developed with General Motors, Mercedes-Benz, and The BMW Group. A variable speed automatic transmission with overdrive is standard. The Durango Hybrid uses an advanced 2-mode hybrid system which conserves energy by using an electrically variable 4-speed automatic transmission, a 300-volt NiMH storage battery, two 87-hp electric motors, and a 345-hp 5.7-liter Hemi V8 engine which includes the Multi-displacement System (MDS). The ECVT has two electric motors and four fixed gears. Total output is 385 horsepower and 380 pound-feet of torque. The Durango's two-mode hybrid system starts with a 300-volt battery pack, which is recharged using the friction from the SUV's regenerative brakes. In turn, the battery powers two transmission-integrated electric motors - most conventional hybrids have one.
The Durango Hybrid's biggest benefit is its excellent gas mileage, its incognito hybrid badging, and its spacious and easily accessible third row seating. Standard safety features include electronic stability control and four airbags including side curtains. This model does not have any exterior modifications when compared to the gasoline powered Durango, unlike the GM two-stage hybrid vehicles that tout their green powertrains. The bottom line is it gets good fuel economy and emits less pollution. Utilizing a two-mode hybrid setup, the big Durango takes advantage of a fuel-saving Multi-Displacement System (MDS) technology. A trailer-towing package, sunroof and a rear-seat DVD player are the only options on Dodge Durango.

Lakeshore Chrysler Dodge Jeep