Lakeshore Chrysler Dodge Jeep customers that are searching for new or used Dodge Ram Heavy Duty Truck, our Slidell Louisiana based dealership will serve all your new and used auto needs. We make finding your New or Used Dodge Ram Heavy Duty Truck easy! Lakeshore Chrysler Dodge Jeep helps residents remain at one location and having all their auto needs met. We are located in Slidell on the Northshore of Louisiana. Lakeshore Chrysler Dodge Jeep is located nearby New Orleans, Metairie, Houma, Mandeville, Covington, Abita Springs, Pearl River, Chalmette, Jefferson, Diamondhead, Picayune and Bay St. Louis Mississippi!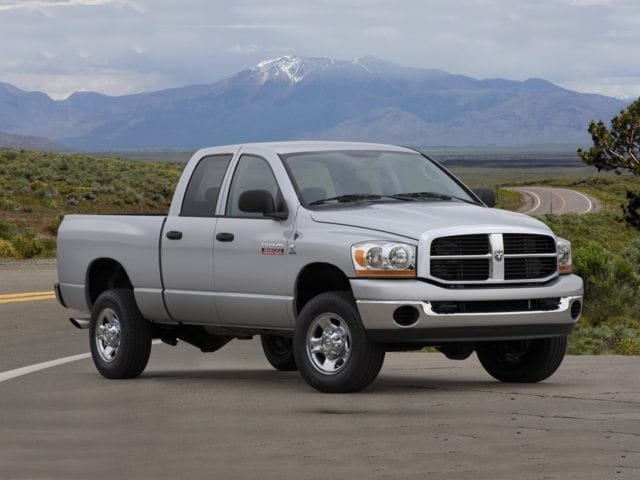 The newest heavy duty Dodge Ram is a truck like no other. It has a powerful exterior and a roomy comfortable interior. Design work abound, this new model is truly instilled with design and brilliance. 2009 Ram, currently in production, allows Dodge designers to focus on the next series of Heavy Duty - or 2500 and 3500 - Ram models. For the first time the larger trucks will sport a unique front fascia. The large Rams will also make use of the same interior as the current model Ram which received high marks in the most recent reviews.
2011 Dodge Heavy Duty Truck
2010 Dodge Heavy Duty Truck
2009 Dodge Heavy Duty Truck
2008 Dodge Heavy Duty Truck
2007 Dodge Heavy Duty Truck
2006 Dodge Heavy Duty Truck
2005 Dodge Heavy Duty Truck
With new design trending towards fuel economy Dodge engineers are making some major changes to their signature Cummins diesel engine. A slight drop in power may be evident due to these changes, although not enough to dissuade most consumers from the Ram. Vice president of truck product development Scott Kunselman believes fuel economy is more important to truck buyers than the ability to pull the largest possible trailer up huge hills at 85 mph. Beefing up the chassis, transmission and other components to handle much more power would add weight and cost to the truck and only a handful of buyers would ever make use of it. Being mostly utilized in fleets, these heavy duty trucks are mostly geared towards the fleet managers who are interested in lowering costs rather than having outrageous power output.
Advanced Interior Design

Dodge has noted many complaints about their truck interiors in the past, and that's a subject Ralph Gilles, vice president of Jeep, truck, and advanced interior design, took to heart. The first product of Chrysler's new interior design, the redesigned interior is exponentially superior to that of the outgoing Ram.
The new 2010 Dodge 2500 and 3500 Mega Cab models retain their title of best-in-class interior room in the segment including the largest, longest cab (143.2 cubic feet,111.1 inches long); largest interior cargo volume (72.2 cubic feet); largest cargo volume behind rear seat (7.7 cubic feet); largest flat-floor load area (16.8 square feet); largest second-row leg room (44.2 inches); largest rear-door opening (34.5 inches wide, 35.5 inches high); largest rear-door open angle 85 degrees); and first-ever reclining rear seats (22- to 37-degree seat-back angle).
The interior was naturally upgraded, with optional heated/ventilated front seats; heated rear-seats and steering wheel; automatic temperature control; two-tone upholstery; memory seats, radio and mirrors; navigation; adjustable pedals and numerous infotainment options including Backseat TV(tm) with three channels of programming, uconnect tunes with a 30-gigabyte hard drive, and a first-in-segment 10-speaker surround-sound system. Numerous storage options include in-floor storage.
Refinement from the Outside In

Mirrors are equipped with turn-signal indicators, memory function, puddle lamps and adjustable convex mirrors. Depending on trim level, mirrors are finished in black, or black and chrome. The larger 7-in. x 11-in. mirror for trailer towing is standard on 3500 models and available on 2500 pickups. Front fenders and headlamps of the new 2010 Dodge Ram 2500 and 3500 are shared with light-duty pickup models.
The new 2010 Dodge Ram Heavy-Duty grille includes a chromed surround with either black center bullets (ST, SLT and Power Wagon models) or chromed center billets (Laramie, Big Horn and Lone Star models). Dodge Ram 2500 and 3500 TRX models feature a body-color surround with black center billets. The grille is body-mounted, while the bumper is frame-mounted.
To accommodate cooling requirements of the 6.7-liter Cummins Turbo Diesel engine (with a take-rate of 90 percent), the new 2010 Dodge Ram Heavy-Duty grille opening is larger than the light-duty grille. Access to the front winch (on Power Wagon models) and tow hooks led to the unique front-bumper design.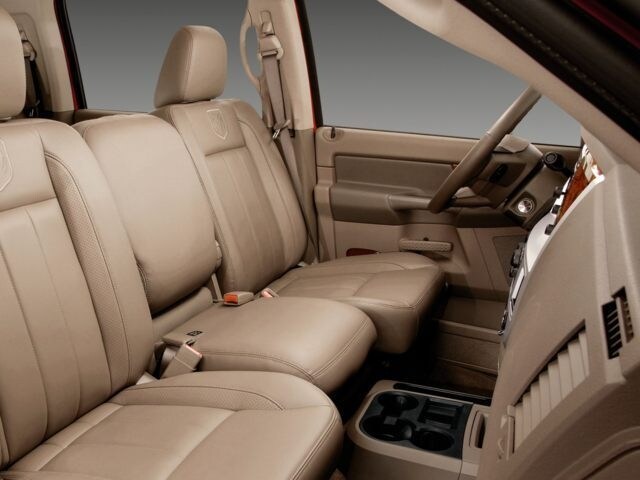 A Powerful Offering

The V-8 is the only available engine in the 2500-series Ram and is coupled exclusively to a five-speed automatic. Also familiar is the 6.7-liter Cummins diesel inline-six. Producing the same 350 hp and 650 lb-ft as in the outgoing truck, the Cummins can be paired with either a six-speed automatic or a six-speed manual. To slow such massive loads, 14.2-inch front and 14.1-inch rear brakes are standard, while an integrated trailer-brake controller is optional. Also, Dodge's flip-up trailer mirrors are standard on the 3500, measuring a Samsung-like 7 by 11 inches. With the G56 manual transmission, the Cummins puts out 350 hp and 610 lb-ft of torque; with the chassis cabs, 305 hp and 610 lb-ft of torque.
Power-wise, the Cummins engine has the same ratings as the Ford Super Duty diesel (though peak torque comes in earlier), while the Silverado's Isuzu-boosted Duramax diesel has 15 more horsepower and 10 lb-ft more torque.
In chassis-cab service, the engine now meets 2010.5 emissions standards in 50 states, thanks to diesel exhaust fluid (DEF) injection based on urea injection Selective Catalyst Reduction (SCR) technology. The standard diesel has a 5 year/100,000 mile warranty, the best in its class. Ram Chassis Cabs come with a proven six-speed Aisin automatic transmission (with 3-year/180,000-mile warranty) or a six-speed manual transmission. The commercial-grade six-speed automatic is electronically controlled, with excellent shift quality (using advanced electro-hydraulic clutch-to-clutch control) and close gear ratios with both static and mobile PTO capability. With more control, the six-speed manual transmission achieves a high-ratio sixth gear for longer highway cruising.
The 545RFE five-speed automatic is the only transmission available with the Hemi; it too has Electronic Range Select.
For lower maintenance and better stopping power, the Ram 4500/5500 has the largest front brake rotors (390 mm) and calipers (66 mm), and a standard diesel exhaust brake. The standard diesel 24,000 lb. Gross Combined Weight Rating (GCWR) and optional 26,000 lb. GCWR package are both best-in-class on 3500.
Dodge will likely stick with the Ram HD's current absorber NOx catalyst system, for future 2500 and 3500 heavy-duty trucks instead of the urea treatment most diesel passenger cars use to meet EPA regulations. However, Dodge will use urea for its class 4 and 5 cab and chassis Rams because the emissions certification process is different for the larger trucks. Storing enough urea to last between oil changes is one problem for trucks with factory-installed beds, plus the urea can freeze and thus be rendered useless in northern climates. If the price of the catalyst system - which uses plenty of exotic materials - continues to rise, Dodge may have to re-evaluate this approach.
Ram 1500's multi-link coil suspension makes a lot of sense for light-duty trucks; it doesn't in the heavy-duty segment. Most of the three-quarter and one-ton trucks use a main leaf spring pack and a set of helper leaves to handle overload situations. There isn't any way to add helper springs to coil springs. Dodge's current strategy gears the 2500/3500 trucks for maximum towing and hauling, so the traditional leaf springs will remain on these models.
Superb Strength and Load Capacity
Engineered to deliver precise feel and response for better handling, the new 2010 Dodge Ram Chassis Cab's steering and suspension system boast superb strength with a focus on improved load capacity, increased durability and refined handling. Two-wheel-drive and four-wheel-drive models feature a recirculating ball system that provides precise response and an on-center steering feel through lower internal friction. Featuring solid front and rear axles, and a five-link, coil-spring front suspension with solid axle, a front and rear link-type sway bar and heavy-duty tubular shock absorbers are standard.
A Ram with Electric Technology?
For 2010 Dodge has also begun production on a Hybrid model. Executive Vice President in charge of product development Frank Klegon when asked about the new hybrid models states "The addition of hybrid and diesel powertrains to our all-new Dodge Ram 1500 lineup is sure to attract an array of new customers looking for the ultimate combination of full-size pickup fuel efficiency, performance and capability."
The hybrid and diesel offerings for Dodge Ram are in addition to three gasoline powertrain options:
-- An all-new 5.7-liter HEMI V-8, that delivers a 4 percent increase in fuel economy for 2009 while producing 380 horsepower and 404 lb.-ft. of torque
-- A new for 2008 4.7-liter flex-fuel V-8, that resulted in an increase in fuel economy while producing 310 horsepower and 330 lb.-ft. of torque
-- A 3.7-liter V-6 that generates 215 horsepower and 235 lb.-ft. of torque
Hemi Hybrid Power!
The renowned HEMI power plant, now in hybrid form, will continue to feature Chrysler's Multi-displacement System (MDS), which allows the engine to seamlessly alternate between four-cylinder mode when less power is needed and V-8 mode when more power is in demand. The two-mode hybrid system provides assistance from electric motors allowing the HEMI V-8 to remain in four- cylinder mode more often than without a hybrid powertrain, improving overall fuel economy.
Chrysler's advanced, state-of-the-art two-mode full hybrid system integrates proven automatic-transmission technology with a patented hybrid-electric drive system to deliver the world's first two-mode full hybrid.
In the first mode, at low speed and with light loads, the vehicle can operate in three ways: Electric power only, Engine power only, and any combination of engine and electric power.
The two-mode hybrid provides all of the fuel-saving benefits of a full- hybrid system, including electric-only operation. In this mode, the engine is "shut off," with the vehicle moving under electric-only power at low speed. The result is a significant reduction in fuel consumption in heavy stop-and-go traffic.
The second mode is used primarily at highway speeds. In addition to electric assist, the second mode provides full power from the 5.7-liter HEMI V-8 when conditions demand it, such as when passing, pulling a trailer or climbing a steep grade.
While the development teams at Chrysler have their hands full, there are still plans to improve the new Ram 1500 in the immediate future.
Improving fuel economy is a major focus for the Ram team. It makes most sense for the Cummins to be tuned for fuel economy, not outright power. We weren't able to get much in the way of fuel economy figures, but when we suggested a minimum of 22 mpg, Kunselman told us, "I think we'll blow away 22 mpg." Hopefully such a truck could return 25 mpg, or better, on the highway and cost substantially less than a diesel heavy-duty truck.
The 2010 Dodge Ram Heavy Duty, available in Fall 2009, will continue to use the previous generation's proven chassis and frame, but with more comfort, higher capabilities, and more body options: Dodge has replaced the Quad Cab with a crew cab, which joins the regular and Mega cabs. There are two cargo-box sizes (6-foot-4-inches and 8 feet), in single and dual-rear-wheel configurations. Even the chassis cabs come in a crew cab version.
With a new optimized engine design and an addition of the HEMI hybrid option, the 2010 Dodge Ram appears on the verge to make strides into a market where people are shying away from large trucks and going with crossover vehicles for the added fuel economy.
Lakeshore Chrysler Dodge Jeep