Lakeshore Chrysler Dodge Jeep customers that are searching for new or used Dodge Ram Truck, our Slidell Louisiana based dealership will serve all your new and used auto needs. We make finding your New or Used Dodge Ram Truck easy! Lakeshore Chrysler Dodge Jeep helps residents remain at one location and having all their auto needs met. We are located in Slidell on the Northshore of Louisiana. Lakeshore Chrysler Dodge Jeep is located nearby New Orleans, Metairie, Houma, Mandeville, Covington, Abita Springs, Pearl River, Chalmette, Jefferson, Diamondhead, Picayune and Bay St. Louis Mississippi
!
2010 Dodge Ram
2009 Dodge Ram
2008 Dodge Ram
2006 Dodge Ram
2005 Dodge Ram
2004 Dodge Ram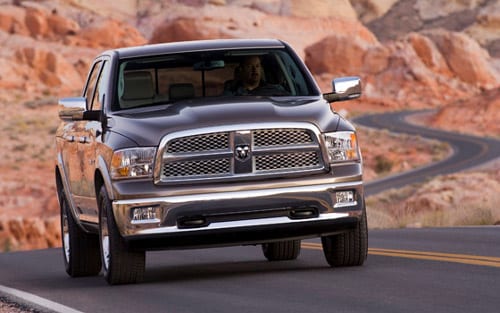 Used Dodge Ram

Commercial workforce customers and families in need of durable full size truck are partnering up with Used Dodge Ram by contacting
Lakeshore Chrysler Dodge Jeep
for lower than average prices and above average standards. Our Used Dodge Ram selection consists of all cab sizes, Ram makes, model/years, equipped with several powertrain options and various features.
Used Dodge Ram Powertrain
The designers of Dodge Ram understand there are few large monetary investments, which are consumers are going to make over an average lifespan, and one includes solid reliable transportation that meets their daily requirements. Therefore, special requirements in investment of Ram much allow freedom of powertrain options so engineers brought to life engines ranging from Ram 1500 V6 to robust V8 Hemi engine in the Ram 2500. In 2008, Dodge Ram was first introduced its new 4.7-liter V8, which blasts out more power than previous years. Starting in 2008-2009 models the makes of Ram offered are ST, SXT, SLT, and the bountiful Laramie. Popularity stands with high sales for used Dodge Ram SLT, which can be dressed up accordingly with Ram Sport Package. This is exactly why several
Lakeshore Chrysler Dodge Jeep
customers go for our Used Ram models, because options that were an extra charge, already are installed by its first owner. Extra elements available on SLT and Laramie models include larger 20-inch wheels, sunroof, front bucket seats, multi media center that includes navigation, satellite radio, Bluetooth Calling, heated seats and more.
Lakeshore Chrysler Dodge Jeep
has top quality top of the line Used Ram Laramie, which is Tan and Black with style that in a truck is breathtaking. Cab chooses range from regular cab, Crew (Quad) Cab, Jumbo (Mega) Cab, with either short cargo beds or longer beds, all up to the customer's preferences.
Ram Interior

Step into a 2005-2010 Used Dodge Ram to an extraordinarily beautiful atmosphere full of convenience features and audio hookups, air conditioning, heated seats, tilt wheel and basic media has AM/FM/CD and auxiliary hook up for handheld gadgets, and a 40/20/40 front-bench seats. Naturally,
Lakeshore Chrysler Dodge Jeep
Dealership can also assist in bringing the used 2007 Dodge Ram right up to date by directing Ram owners towards our online Dodge (Mopar) accessories and parts to update that Ram whenever you see something. Add elements on exterior such as rear spoilers, or perhaps, more entertainment with rear seat DVD Movie Player or updated navigation with a 30-gig hard-drive on a clear screen centered perfectly in the center of the dashboard.
Used Dodge Ram Safety and Summary

Winning over IIHS road and crash tests never becomes a problem for Ram, as they repeat rank as Top Safety Pick. The upgraded suspension and stiffer driving control, the Dodge will take you through the worse conditions safely, yet just glide down the highway, as if you are floating up in the air! However, you are floating with a lot of solid structure beneath to keep you afloat. Test-drive a used Dodge Ram today! The half-ton beautiful piece of steel, rubber, and chrome is often called King of the Road, and after seeing this big boy, that is easily revealed to all its onlookers. Relish yourself in a
Lakeshore Chrysler Dodge Jeep
test drive and discuss further upon arriving back to our dealership what other "convenience" features other Rams can possibly better suit your needs. The choose you make is obviously going to be extremely personal, so at
Lakeshore Chrysler Dodge Jeep
, Ram lovers always find their chosen partnership that fits their lifestyle perfectly with desired installed equipment, features and bed sizes.