Lakeshore Chrysler Dodge Jeep customers that are searching for new or used Jeep Compass, our Slidell Louisiana based dealership will serve all your new and used auto needs. We make finding your New or Used Jeep Compass easy! Lakeshore Chrysler Dodge Jeep helps residents remain at one location and having all their auto needs met. We are located in Slidell on the Northshore of Louisiana. Lakeshore Chrysler Dodge Jeep is located nearby New Orleans, Metairie, Houma, Mandeville, Covington, Abita Springs, Pearl River, Chalmette, Jefferson, Diamondhead, Picayune and Bay St. Louis Mississippi!


Jeep Compass Style & Design

Jeep Compass entered the Jeep family in 2007 and remains on this day one of the largest sellers around Slidell, Louisiana. Anyone from Slidell & surrounding areas searching Used Jeep Compass should definitely contact our #1 USA Jeep Dealership of
Lakeshore Chrysler Dodge Jeep
. Purchase from Louisiana's finest quality, largest used Jeep Compass inventory, available at extraordinarily low pricing that
Lakeshore Chrysler Dodge Jeep
offers to all their customers. From model/years, that range within 2007 and 2009 being the more popular chosen used Jeep Compass, due to enhancements and upgrades.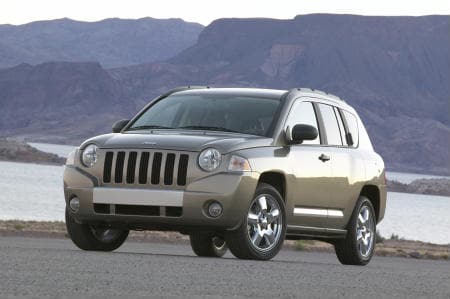 Jeep Compass Interior/Exterior Details
Such upgrades include features that really struck as more advanced standard features in Jeep Compass. Some call Compass, "Lil Grand Cherokee" and this is very true, as Jeep designers did intentionally make a more economical version of their Jeep Grand Cherokee, which is the unsurpassed Jeep Compass! The high tech media for 2007-2009 Jeep Compasses took a good but extremely standardized media system, guess things were meant just to be simple economical rides, and no matter what Compass model/year purchase always driving safe solid Compass of any year! The 2008 Compass followed by its 2009 version is not showing many differentials. Jeep Compass interior comes equipped with features, as the 2007 Compass standard features include, Mast antenna, AM/FM/CD Player and an audio hookup for MP3 players or other hand held devices.
Safety defines Jeep, mostly due to all Jeep vehicles rolling around Louisiana right now consists of and ready for test drives at our
Lakeshore Chrysler Dodge Jeep
Dealership. The Jeep Compass comes equipped with its share of safety features when transporting passengers to designations, a few safety features standard in Compass starting in 2007, including stability control, traction control, passenger airbag/occupant sensing deactivation, rear headrest, front has height adjusting headrests plus much more so your family has safety while traveling about.
Jeep Compass Summary

In the beginning, 2007 Jeep Compass became Jeeps basic economically priced and fuel efficiency was focused up as well, this smaller Compass comes available in two trims, which are Sport & Limited. Nimble speeds take Jeep Compass to 0-60 finish line in 9.2-seconds and more to brag on that subject is the Compasses ability of braking at the 128-foot marker doing 60-0 is unmatchable to vehicles in same class of this magnitude.